Save up to $500 on your next flooring purchase
Fill out the form below and we will email your coupon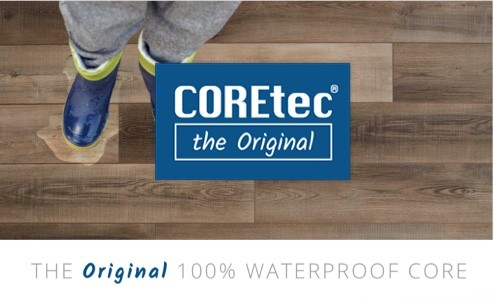 One of the hottest trends in home design - for good reason
The benefits of waterproof CoreTec are practically endless. Fast & easy to install, even in larger rooms, CoreTec resists water, mold & mildew to deflect potential damage. On top of that, it's warm, comfortable, and reduces noise with every step. You can install CoreTec right overtop of your existing floors with minimal prep and it will remain stable overtime, making it perfect for hiding imperfections in your subfloor.
Available in many fine natural looks, including wood, stone and ceramic tile, with hyper-realistic surface textures. Browse some of our most popular offerings below.
*Present a coupon to sales associate PRIOR to purchase. This coupon entitles you to receive up to $500 any qualifying Flooring 101 purchase. In-store only, no online sales. Discount applies to flooring material only. This coupon cannot be combined with any other offer. One coupon limit per person, per order, at Flooring 101.